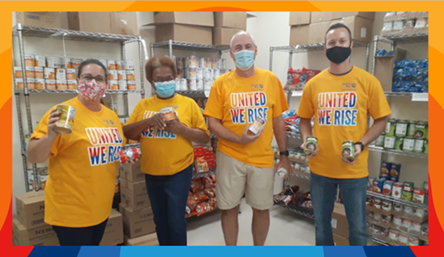 OCTOBER ENGAGEMENT: FOOD FOR FAMILIES
The reality is that just under 2.4 million children in Florida - 56% of all children - lived in a household with an income level below the ALICE Threshold of Financial Survival in 2019, the third-highest rate in the nation. These households included families in poverty as well as those who were ALICE: Asset Limited, Income Constrained, Employed. ALICE households don't earn enough to afford the essentials of housing, childcare, food, transportation, health care, a smartphone plan, and taxes - the basic needed to live and work in the modern economy.
Children from ALICE families in our Suncoast region struggle with hunger and rely on free school breakfast and lunch for foundational nutrition. Through our partnerships and programs, United Way Suncoast supports our community by increasing access to food resources.
GET INVOLVED
Create Food Support Kits for children to take home over the upcoming holiday break.
Individuals or groups can create kits on their own schedule.

This activity can also be planned and managed by the UWS Community Engagement Team to be held on-site for corporate and civic groups; contact projects@uwsuncoast.org for more details (funding required).
Volunteer at one of the below community projects*:
*For groups of 5 or more, fill out this project request form and UWS can coordinate a group volunteer activity (alternate dates available).
If you are in need of supplemental food and/or nutrition programs, call 211 or visit www.211.org to receive local assistance.
Together we can build a strong community that takes care of everyone who lives here. In addition to volunteering, you can help by making a donation today.