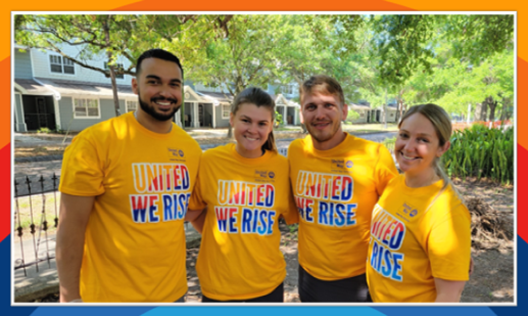 APRIL ENGAGEMENT: GLOBAL VOLUNTEER MONTH
Volunteer action is a key part of United Way Suncoast's mission and your service can make a big impact. We invite you to Volunteer United and elevate our community by joining us to build a future with equity for all. Below are a variety of ways to get involved during Global Volunteer Month.
VOLUNTEER
Week of Caring: this annual event connects nonprofit partners with corporate and civic volunteers who offer their time and skills. Learn more.
UWS programs: individuals who have availability to volunteer on a regular schedule can sign up for one of our programs.
Calendar of Opportunities: view available volunteer shifts based on your schedule. View the calendar.
SPONSORSHIP OPPORTUNITY: TEACHER APPRECIATION GIFTS
Corporate or civic partners are invited to sponsor and create Teacher Appreciation Gifts as an engagement opportunity for their team of volunteers. The kits will be distributed during Teacher Appreciation Week in early May. View the details.
DIY OPPORTUNITIES
DIY Food Support Kits: Individuals can create these kits on their own schedule at home. Learn more.
DIY Letters for Teacher Appreciation Week: Create handwritten or homemade cards of appreciation that will be distributed during Teacher Appreciation Week in May. View the details.