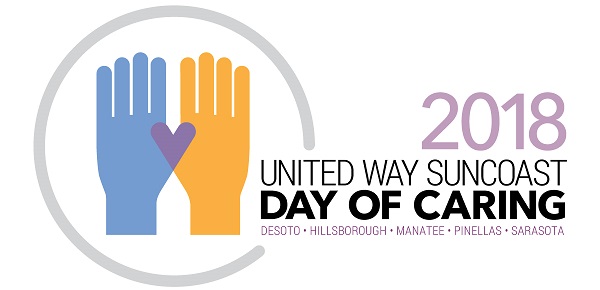 Friday, October 12, 2018
Day of Caring is the largest volunteer event in the Suncoast Region that connects nonprofit agencies with corporate and community volunteers.
In 2018, United Way HandsOn Suncoast organized over 2,600 volunteers at more than 120 projects for over 50 companies and community groups in Hillsborough, Manatee, Pinellas and Sarasota counties. Volunteer teams with 5 or more individuals registered to adopt projects with their coworkers, classmates, friends and family members. This benefited many of our partner agencies and affiliates by completing projects that they could never undertake on their own. Projects ranged from skill-based, social, and labor intensive opportunities such as landscaping, cementing, playing games with seniors, reading with children, resume building workshops and more.
Interested in finding out how you can participate for next year's Day of Caring or for other projects throughout the year? Contact our team at DayofCaring@uwsuncoast.org.
Click here to see select pictures from the 2018 Day of Caring.