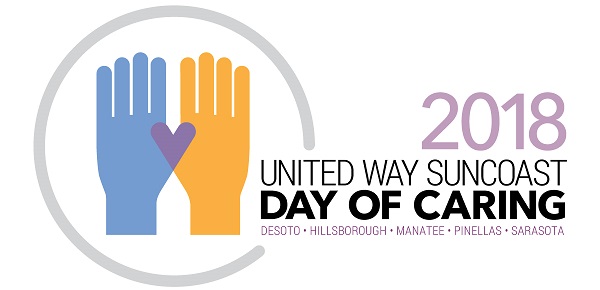 Friday, October 12, 2018
Day of Caring is the largest volunteer event in the Suncoast Region that connects nonprofit agencies with corporate and community volunteers.
In 2017, United Way HandsOn Suncoast organized more than 100 projects for 42 companies in our five county service area. This benefited many of our partner agencies and affiliates by completing projects that they could never undertake on their own. Projects ranged from skill-based, social, and labor intensive opportunities such as landscaping, cementing, playing games with seniors, reading with children, resume building workshops and more.
Nonprofit Agencies
Projects for Day of Caring can be submitted starting August 7th through August 24th. You are able to submit multiple projects at the same or different location.

Items to keep in mind when developing a project:
Develop a budget for materials, water, snacks, etc., as agencies are responsible for all items needed.

Determine the number of volunteers that the project can accommodate.

Identify any risk that may be involved.

Develop a detailed project description so volunteers can know exactly what to expect.

Identify an alternate date in case of inclement weather.

Project date will be Friday, October 12th. If you are unable to schedule the project(s) for this date, contact the HandsOn Suncoast team before submitting.

Project adoption will begin September 4th through September 21st.
If you have any questions on how to submit a project, please email DayofCaring@uwsuncoast.org. You can also download the agency manual to see step-by-step instructions on how to use the HandsOn Suncoast website.
Volunteers
Teams with 5 or more volunteers can sign up to adopt projects, so you can volunteer with your coworkers, friends and family members. Click here to see a list of available projects that can be adopted between September 4-21. You can contact DayofCaring@uwsuncoast.org if you have any questions.
Things to know before volunteering:
Create your team and enter the individual volunteer names.

Uncertain of how to create a team? Click here for more information.

Contact the project leader for any questions before or after signing up.

Ask the project leader what the back-up date will be in case of inclement weather.

Make sure to communicate all project details with your team members.

T-shirts are provided for volunteers participating in Day of Caring. Click here to download the t-shirt form that will need emailed to DayofCaring@uwsuncoast.org by 4pm on September 25th.
Click here to see select pictures from the 2017 Day of Caring.