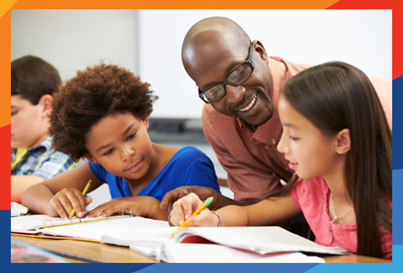 JULY ENGAGEMENT: SUPPORTING OUR SCHOOLS
United We Learn is an initiative to ensure equity and access to early learning for all children. United Way Suncoast invests in and implements programming within attendance zone of selected Title I Elementary schools comprised of Asset Limited, Income Constrained, Employed (ALICE) households. We concentrate on ensuring children enter kindergarten ready to learn, ensuring school-age children have the supports they need, and reducing barriers families encounter.
The more equipped that a child is with the proper school supplies, the more likely they are to succeed in that year's economic goals. Through the below opportunities, you can provide additional support to schools in our Suncoast region and directly support children to succeed.
VOLUNTEER
Teaching Tools Store: Saturday, July 15 (Tampa)

This program through the Hillsborough Education Foundation provides free school supplies year-round to economically disadvantaged students attending Hillsborough County Public Schools designated as Title I. Volunteers assist with a variety of tasks at the store. Learn more

Campbell Park Network for Early Learning: volunteers provide assist the Learn & Play Sessions that are designed to support parents/caregivers to play and interact with children in developmentally appropriate ways to encourage brain development and assist school readiness. View more about this program.
Quality Childcare Initiative: High-quality preschool gives children a strong start on the path that leads to college or a career. Corporate and Civic Groups of 10 or more can volunteer to enhance the children's learning environment through a variety of tasks. More details
SPONSORSHIP OPPORTUNITIES
The below sponsorship opportunities are a great way for corporate and civic groups to engage team of volunteers. For the month of July, there are two sponsorship spots available:
DIY OPPORTUNITIES
Community volunteers are invited to create the below kits that would be distributed to children in the Suncoast region:
SUPPLIES FOR SCHOOLS
Throughout the month of July, United Way Suncoast is encouraging the community to donate school supplies to support children in our Suncoast Region. Your generosity helps ensure that children have what they need so they can focus on learning. Items can be purchased through our Amazon Wishlist or host a donation drive for in-person collections. View the flyer.