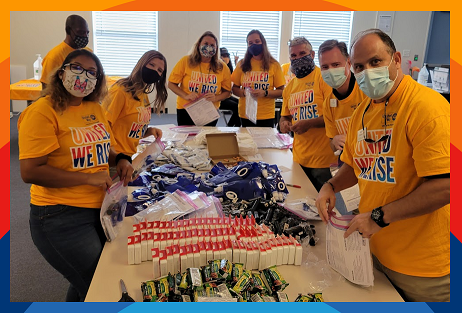 SEPTEMBER ENGAGEMENT: NATIONAL PREPAREDNESS MONTH
An emergency can happen to anyone, at any age, at any time. Less than half of all Americans can afford a $1,000 emergency if it were to happen to them tomorrow. While not all disasters are directly financial, many disasters have a rather large financial component to them, thus making them disastrous to the families that can't afford them.
Our goal is to help our community prepare so when confronted with hardships, each member can RISE, and United we can overcome.
GET INVOLVED
Visit us at one of the 9/11 Day of Service and Remembrance events.
Volunteer for one of the following United Way Suncoast programs:
Create a Kit - individuals or groups can create the below kits for community members:
Care Kits:

support these individuals and families by providing them with information on available services.

Emergency Preparedness Starter Kits: help families in our Suncoast region stay prepared for an emergency.
These activities can also be planned and managed by the UWS Community Engagement Team to be held on-site for corporate and civic groups; contact projects@uwsuncoast.org for more details (funding required).
If you are in need of rental or mortgage assistance, visit this page.
Together we can build a strong community that takes care of everyone who lives here. In addition to volunteering, you can help by making a donation today.