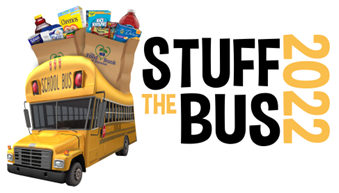 Sunday, October 23, 2022
All Manatee County Publix Locations
United Way Suncoast is excited to partner with Meals on Wheels PLUS of Manatee County to bring you this volunteer opportunity for Stuff the Bus!
Inflation and higher costs of living has caused food-insecurity in our community to skyrocket. The Food Bank of Manatee, a PLUS program of Meals on Wheels PLUS of Manatee, has been the leading, local source of nutrition in Manatee County since 1985. As the only food bank based in Manatee County, we need your help to Stuff the Bus this year! 100% of the proceeds and food collected will stay in Manatee County.
Stuff the Bus will be held on Sunday October 23rd at all Manatee County Publix locations through a partnership with Meals on Wheels PLUS of Manatee County, the School District of Manatee County, Publix, Mosaic and United Way Suncoast.
Volunteers during each shift will accept donations from community shoppers at Publix, organize donations by type, pack into boxes, and load onto the bus. There are two shifts available at each location and all volunteer spots are available on a first come, first serve basis. All volunteers must register as individuals and must be registered in advance to be on-site during the event.
To register, click on one of the store links below to sign up for a particular shift. If a store does not have a link displayed, that means that volunteers are not currently needed at that location. Thank you for volunteering!
#1004 Beachway Plaza

: 7310 Manatee Avenue West, Bradenton, FL 34209
#1152 The Shops at Silver Leaf

:

11245 US 301 North, Parrish, FL 34219

#1153 Lakewood Walk

:

11205 East State Road 70, Bradenton, FL 34207

#1305 Parkwood Square

:

9005 US 301 North, Parrish, FL 34219

#1326 Bradenton Commons

: 4651 Cortez Road West, Bradenton, FL 34210

** GREATEST NEED!!

#1342 Publix at Palmetto

: 1101 8th Avenue West, Palmetto, FL 34221

#1447 Lockwood Commons

: 4240 53rd Avenue East, Bradenton, FL 34203

#1553 Braden River

: 14605 E. St. Rd. 70, Bradenton, FL 34202

#1600 University Corner

: 7325 University Parkway, Sarasota, FL 34235

#1666

Gateway Commons

: 9520 Buffalo Rd, Palmetto, FL 34221

#417 Bayshore Gardens Shopping Center

:

6030 14th Street West, Bradenton, FL 34207

#491 Twelve Oaks Plaza

:

7290 55th Avenue East, Bradenton, FL 34211

**GREATEST NEED!!!

#681 Publix at Holmes Beach

:

3900 East Bay Drive, Holmes Beach, FL 34217

#709 Lakewood Ranch Shopping Center

:

8830 Market Street, Lakewood Ranch, FL 34202

#746 Rivers Edge

:

5001 East State Road 64, Bradenton, FL 34208

#780

Westgate Shopping Center:

3913 Manatee Avenue West, Bradenton, FL 34205

#798 Lakewood Ranch Gateway:

1755 Lakewood Ranch Boulevard Lakewood Ranch, FL 34211

#828 University Walk

: 2875 University Parkway, Sarasota, FL 34243

#1723 White Eagle

: 13150 State Road 64 E, Bradenton, FL 34212