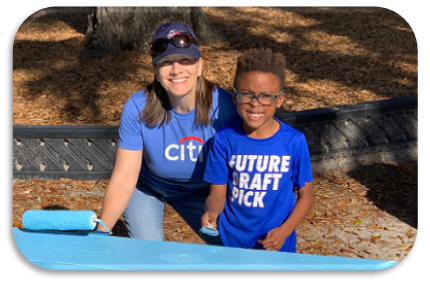 YOUTH & FAMILY VOLUNTEERS
United Way Suncoast is committed to making volunteering for youth and families easy by connecting you to opportunities that are fun and meaningful. When your family volunteers together, you build deep bonds with each other and with your community! It doesn't take a lot of time to make a big difference.

YOUTH VOLUNTEERING - AGES 13 to 17
Do you have required service hours and need to connect with volunteer opportunities? Youth ages 13 and up* can register to attend these projects, or the age can be edited on the left for those age 14-17 to view additional projects. Types of projects vary throughout the year.
*Make sure to look at the opportunity description to see if an adult is required to attend along with the youth.
FAMILY FRIENDLY VOLUNTEERING - AGES 8 to 12
Most United Way Suncoast Day of Service projects are youth friendly for children ages 8 to 12. Information for each project can be found under the Days of Service menu option above.
Click here to view our Virtual and At-Home Volunteer opportunities.