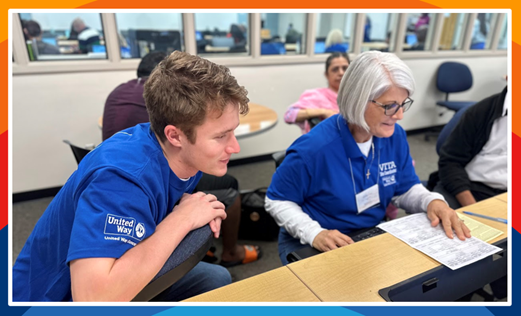 The Volunteer Income Tax Assistance (VITA) program connects low-to-moderate income residents in the Suncoast Region with trained volunteer tax preparers who file their tax returns for free. This is a great opportunity for you, your friends, family, or co-workers to make a difference in our community by ensuring Suncoast households receive quality tax preparation services.
As a volunteer, you will receive training and will join the thousands of others who each year prepare millions of tax returns at thousands of tax sites nationwide.
Training is offered both online and in the classroom. Tax sites are generally open nights and weekends, and the hours are flexible. With the VITA program now available in our 5-county footprint, you will surely find a volunteer site close to you.
If you have a passion for volunteering and would like to get involved, please take a moment to fill out the VITA Volunteer Interest form. If you do not currently have a United Way Suncoast volunteer account, please create one to proceed. Once we begin preparations for the upcoming tax season, you will receive further instructions and information.
Thank you for making a difference through our program!
VITA VOLUNTEER ROLE DESCRIPTIONS
Greeter/Screener – Your role involves warmly welcoming all site visitors to foster a positive environment. You assess taxpayers to identify their specific needs and ensure they possess the essential documentation required to complete their tax returns. Please note that tax law certification is not a prerequisite for this position.
Tax Preparer – To offer free tax return preparation services to eligible taxpayers, you must complete and successfully certify in tax law training, which includes proficiency in the use of electronic filing software. Please be aware that tax law certification is a mandatory requirement for this position.
Site Coordinator – You possess outstanding organizational and leadership abilities. Your role as the primary knowledge source for the program involves being readily available to address any emerging challenges. You are responsible for creating and managing volunteer schedules to ensure sufficient coverage and the availability of supplies and equipment at your site. It's important to note that tax law certification is required for this role.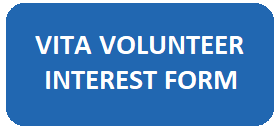 For questions on volunteering, email vita@uwsuncoast.org.