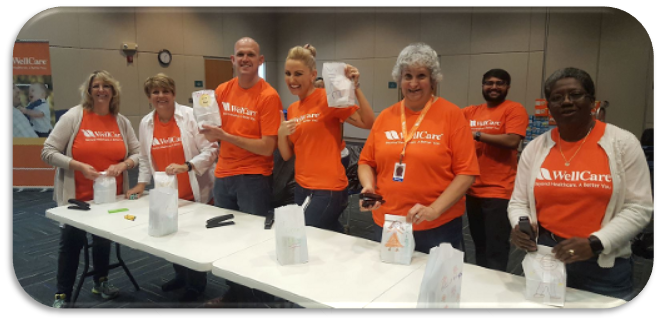 CORPORATE & COMMUNITY GROUP OPPORTUNITIES
United Way Suncoast can engage members of your corporate or community group on a more meaningful level and help them become more involved with their local communities. Whether members want to participate virtually, individually or in groups, we can create this experience for your organization and help your volunteer program grow.
Calendar of Opportunities (groups of 5 and under)
United Way Suncoast has coordinated a variety of volunteer opportunities where individuals can sign up to participate in smaller groups. Click here to see the calendar of upcoming opportunities.
Customized Opportunities (groups of 6 or more)
Our team can identify projects to fit within group size, date and location requirements. Opportunities are available through local partners such as City of Clearwater, Easter Seals, Feeding Tampa Bay, Keep Tampa Bay Beautiful, Mothers Helping Mothers, Religious Community Services, and more.
On-Site Opportunities (groups of 25 or more)
United Way Suncoast can arrange a volunteer opportunity on-site at an office or alternate location such as a hotel or conference setting. Employees can volunteer during their break by assembling a variety of items that are distributed in the community. Click here to see an example of on-site volunteer projects.
DIY Projects
These Do-It-Yourself (DIY) project kits are designed to be completed on any schedule and are great for individuals or groups.
Notes to Students, Teachers or Veterans
Individuals or groups can write messages to students, teachers or veterans to share well wishes or encouragement. We have created note card templates that can be printed at-home or in-office (they are meant to be printed double-sided and on cardstock):
Once complete, mail your notes to: United Way Suncoast Volunteer Team, 5201 W. Kennedy Blvd., Suite 600, Tampa, FL 33609. Be sure to include your name, email address and company name.
Virtual & Remote Opportunities
Volunteers can participate individually or in groups with our virtual and remote opportunities.
For a customized volunteer experience, fill out the corporate and group volunteer request form and one of our team members will contact you.