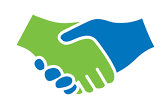 COMMUNITY PARTNERS
United Way Suncoast builds collaborative partnerships with local nonprofit organizations, schools, faith-based groups and other community agencies to create real change through community involvement, volunteerism, and service. Partners gain access to our growing community of volunteers, participate in national days of service, and collaborate long-term to design and implement recurring projects supported and managed by trained volunteer leaders.

We are here to connect the community with volunteers of all types. Whatever the need, big or small, one-time project or on-going, we welcome new opportunities for partnership.
Our partners can benefit from any or all of the following opportunities:
Volunteer Referrals
Referrals are opportunities that are not managed by United Way Suncoast, but are managed by you, the partner! List your project(s) on our website so that volunteers in our network can register to participate and/or contact you directly.
Days of Service
United Way Suncoast celebrates special days to volunteer throughout the year in collaboration with our community partners.
Corporate Projects
United Way Suncoast identifies and develops one-time projects for our corporate & civic partners based on your current organization's needs.
If you would like to become a new partner, please complete this application and our staff will be in touch.
Click here to see if your organization is already registered. If your organization is registered but you do not have access, contact rcain@uwsuncoast.org.
To become a United Way Suncoast partner, nonprofits must:
Have verifiable 501(c)3 nonprofit status or be a not-for-profit/public school or government organization

Prohibit discrimination in hiring practices or in determining recipients of services based on an individual's race, religion, gender, sexual orientation, age, national origin, or mental or physical disability or any other status prohibited by applicable law