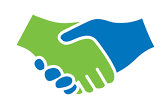 NONPROFITS
United Way Suncoast builds collaborative partnerships with local nonprofit organizations, schools, faith-based groups and other community agencies to create real change through community involvement, volunteerism, and service.

Partners gain access to our growing community of volunteers, participate in national days of service, engage corporate groups, and collaborate long-term to design and implement recurring projects supported and managed by trained volunteer leaders.

We are here to connect the community with volunteers of all types. Whatever the need, big or small, one-time project or on-going, we welcome new opportunities for partnership.
If you would like to become a new partner, please complete this application and our staff will be in touch. Click here to see if your organization is already registered.
Our partners can benefit from any or all of the following opportunities:
Managed Projects
Occur on a regular basis - once a week, once a month, etc.

Direct service to your agency

Occur during or after standard business hours or on the weekend

Led by a trained United Way Suncast Volunteer Leader
Days of Service
United Way Suncoast celebrates special days to volunteer throughout the year. Some of these days include Martin Luther King, Jr. Day, National Volunteer Week, Day of Action, 9/11 Day of Service & Remembrance, Day of Caring and Veteran's Day.
Corporate Projects
United Way Suncoast identifies and develops one-time projects for our corporate partners. These projects often come with larger groups and supply dollars.
Volunteer Referrals
Referrals are opportunities that are not managed by United Way Suncoast, but are managed by you, the partner! We allow for project/position listings that meet your needs on our website so that volunteers in our network can contact you directly.