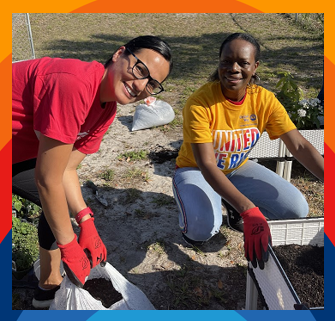 QUALITY CHILDCARE INITIATIVE
United Way Suncoast's Quality Childcare Initiative supports the key quality components of childcare at selected early childcare centers in our 5-county footprint. High-quality preschool gives children a strong start on the path that leads to college or a career. Children need a physical setting—both inside and outdoors—where they can play, explore, and learn safely.
Group Volunteering
Corporate and Civic Groups of 10 or more can volunteer to help enhance the children's learning environment through a variety of tasks which will vary based on the project location. Volunteer tasks may include assembling children's toys, cleaning and sanitizing, spray painting playground equipment, light yard work, non-everyday cleaning such as window washing, or other helpful tasks. Contact projects@uwsuncoast.org if interested in a group work day.
United We Rise, United We Win!