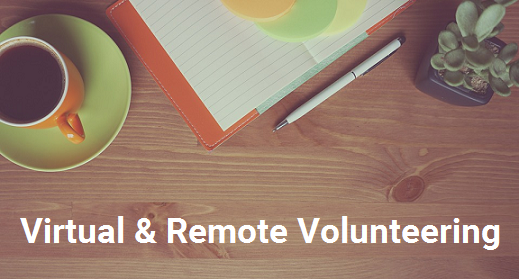 Volunteering virtually or remotely lets individuals donate their time to a cause that matters, which means they can make a difference even if they can't volunteer in-person. We are excited to provide the below virtual and remote opportunities for individuals who would like to help others from the comfort of their own homes.
Individuals can fill out this form to report hours for their virtual or remote volunteer time.
Take Stock in Children - Virtual Mentoring and Virtual Guest Presenter
Take Stock in Children is Florida's flagship and most successful mentoring, college readiness and scholarship program for low-income, academically qualified students. Scholars in the program pledge to meet regularly with their mentor, maintain academic standards and remain drug and crime free on the way to achieving a high school diploma. The reward for fulfilling these commitments is a scholarship to attend college or technical school.
Learn more on how you can become a Virtual Mentor or Virtual Guest Presenter.
Virtual Field Trips
Children's First is looking for volunteers to create virtual field trips for their preschoolers! The field trips can be in State Parks, the Food Bank, the Marina, or in other locations in the community - there are so many places to discover! Learn more about this opportunity.
DIY Projects
These Do-It-Yourself (DIY) project kits are designed to be completed on your schedule and are great for individuals or groups.
Messages to Veterans
Provide support and appreciation to veteran military men and women in our community by writing a letter or note that will bring a smile to their face. Once complete mail to: UWS Volunteer Team (Veterans), 5201 W. Kennedy Blvd., Suite 600, Tampa, FL 33609.
Letters to Seniors
Write a letter or note that will uplift an elderly stranger in our community. Tell them about yourself, make a joke or a riddle and let them know you are thinking of them. Once complete, mail your notes to: UWS Volunteer Team (Seniors), 5201 W. Kennedy Blvd., Suite 600, Tampa, FL 33609.
Color a Smile
Color a Smile is a nonprofit organization that distributes cheerful drawings to senior citizens, our troops overseas, and anyone in need of a smile. This is an easy project to show children that they have the ability to help others and they offer 100's of coloring pages that can be printed and colored at home. Once finished, mail the completed drawings to their organization to be distributed. Visit the Color a Smile website for more information.
Additional Virtual Opportunities
Check out this list of opportunities that supports organizations in our Suncoast Region and at the national level. This is a great way to give back to our community from the comfort of your own home.