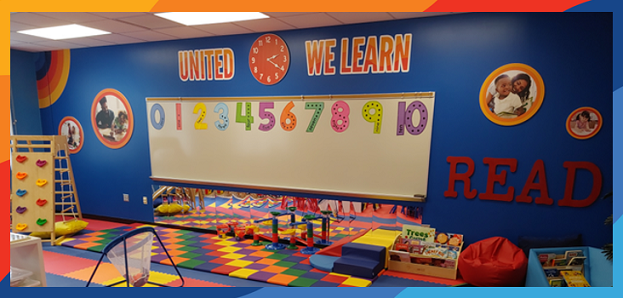 CAMPBELL PARK NETWORK FOR EARLY LEARNING
High quality early learning experiences lead to long-term school success. One of the goals of Campbell Park Network for Early Learning is to engage parents, caregivers and children (Birth to 5 years old) in meaningful learn and play opportunities. The Learn & Play Sessions are designed to support parents/caregivers to play and interact with children in developmentally appropriate ways to encourage brain development and assist school readiness. Sessions are held at United Way Suncoast's Campbell Park Resource Center in the rear of John Hopkins Middle School's campus in St. Petersburg.
VOLUNTEER
Volunteers can support the program by:
Assisting with the session set-up and break down.

Sanitizing materials and equipment.

Assisting families with sign-in procedures.

Capturing photos during the sessions.

Helping to redirect children and families during the sessions.

Helping to facilitate the flow of the sessions.

Managing music and supporting activities.

Participating in a briefing before and debriefing after sessions.
Volunteer should:
Be at least 18 years of age.

Enjoy interaction with young children and families.

Have some child supervision or childcare experience (i.e. parents, nannies, preschool personnel).

Complete a pre-screening and successfully pass a Level 2 Background check, paid for by United Way Suncoast.

Be available once per week during the below session timeframes with a commitment of at least 6-months:

Mondays or Wednesdays from 4:30pm-7pm; or

Tuesdays or Thursdays from 9:30am-12pm.
Questions? Contact Ulas Butler at ubutler@uwsuncoast.org.
If you would like to become a volunteer for the Campbell Park Network for Early Learning, fill out the below form and click the submit button when finished.
To access this form you must be logged in to your account. Please log in and try again. If you are already logged in, you may not have the necessary rights to view the form.