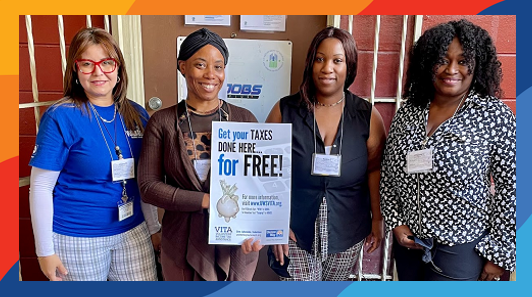 JANUARY ENGAGEMENT: FINANCIAL WELLNESS
January is recognized as Financial Wellness month to serve as a reminder to prioritize our financial wellbeing. For many families, making ends meet is a challenge that requires sacrifices. United Way Suncoast, with partnerships across the community, is committed to enabling individuals and families to achieve financial stability by leading and participating in programs focused on helping families and individuals increase income and build financial assets.
VOLUNTEER
Get involved with one of United Way Suncoast's Financial Stability programs:
Emergency Rental Assistance: Support families and individuals applying for rental assistance by partnering with United Way Suncoast to address the eviction crisis in our community. Learn More
Financial Coaching: Community members who are in a position to make changes and improve their financial wellness are paired with dedicated volunteer coaches. Together, they develop a plan of action that will help the member achieve their financial goals. More Details
Volunteer Income Tax Assistance (VITA): VITA is an IRS program that utilizes certified volunteers to help provide free and accurate tax preparation services to low- to moderate-income taxpayers. Learn More
MARTIN LUTHER KING, JR. DAY OF SERVICE
The 2023 Martin Luther King Jr. Day on January 16th marks the 28th anniversary of the national MLK Day of Service celebrating the Civil Rights leader's life and legacy. United Way Suncoast invites our community to serve in honor of Dr. King and to make his holiday "a day on, not a day off". View opportunities.
SPONSORSHIP OPPORTUNITY: FINANCIAL LITERACY KITS
Corporate or civic partners are invited to sponsor and create Financial Literacy Kits as an engagement opportunity for their team of volunteers. View the details.