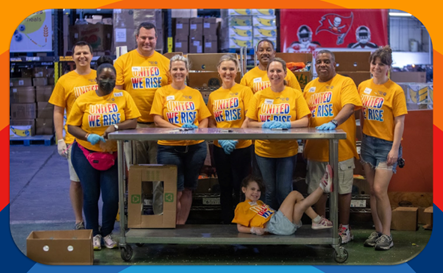 WEEK OF CARING
VOLUNTEER INFORMATION
Join us in celebrating United Way Suncoast's 31st Annual Week of Caring as part of Global Volunteer Month.
Week of Caring projects align with one of United Way Suncoast's focus areas: education, financial stability and support services. Individuals and groups are invited to participate in this impactful community week of service through in-person and at-home opportunities.
Individuals
Click on the "Projects for Individuals" button below to view the list of available projects.

Select a project that includes "Week of Caring" in the title and sign up for the shift that you would like to attend.
Groups
Registration for groups to participate during Week of Caring closed on March 31st. Please fill out this project request form with information about your group so that our team can match you with a volunteer project. Depending on the number of volunteers, county of interest and/or the preferered day(s) of the week, we can provide available options.

T-Shirts
T-shirts will be provided for most opportunities of which volunteers will participate. When volunteers sign up at the provided project link, they will be asked to enter their t-shirt size. Only individuals who are pre-registered through this process will receive a t-shirt. In some instances, t-shirts may need to be mailed after the volunteer shift takes place.
Project Day
Our team would love to see pictures of volunteers in action so we can show our community the amazing work that is being accomplished. Volunteers can share their pictures by emailing them projects@uwsuncoast.org and/or tag us on social media using the hashtag #UWSvolunteers at:
Facebook - @UnitedWaySuncoast

Twitter - @UWSuncoast

Instagram – @UnitedWaySuncoast

LinkedIn – @United Way Suncoast
Questions? Contact our team at projects@uwsuncoast.org.